Printable Phrase Booklets
Print Your Own Phrase Guides!
NTMS: Should the breadcrumb have a parent of "Features"? But there will be no features page...
NTMS: The sidebar should not have links to language pages!!
NTMS: Why is h1 smaller than h2?
Print
your own phrase guides with any laser or inkjet printer.
Wallet-sized printable phrase guides are the core feature of this site. The audio files are all designed to correspond to pages of the printed booklets.
Each credit-card-sized booklet prints on a single sheet of paper and requires only folding and one cut - no staples or glue. After printing the booklet, download the matching mp3 audio files and use them together to hear each word or phrase spoken by a native speaker!
Each page of the booklet has a web-page with the same content where you can click on each phrase and hear it spoken by a native speaker.
Each page of the booklet also has a single mp3 audio file that corresponds to the page. Each word or phrase is spoken in English, then repeated in the foreign language twice for you to repeat aloud for practice.
Cover NTMS: I don't need to show this, right?

1.1 Basics

1.2 Introductions


sometimes includes days of the week.

1.3 Around Town

1.4 Numbers
Clickable Audio
Each booklet page has a corresponding web page. Each phrase can be individually selected and listened to individually in any order as many times as you like.
---
Full-Page Audio Files
Each booklet page has a corresponding audio file. Download the audio files and listen along with the book during your travels. Or, use the audio files before you travel. Listen and learn while you commute, do errands, or do anytime!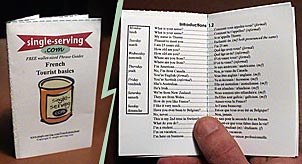 Viewing and printing requires Adobe
Acrobat®. Almost all computers already have it installed. If the file can't open on your computer, click on the yellow button to download Acrobat Reader directly from Adobe:
Or were you looking for instructions on how to fold the booklets?