| | | | | |
| --- | --- | --- | --- | --- |
| | | | - | |
Panama
Print or View a single-serving map of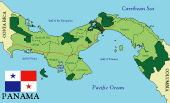 Panama (164 Kb)

Printable and online
Spanish Phrase Guide from single-serving.com.
www.visitpanama.com
Panama travel page
Lonely Planet Panama
One of the better English guides to the country. There are mixed reviews at amazon, but there doesn't seem to be much better.

Adventures in Nature Panama
An excellent book on adventure travel in Panama. It includes sections on conservation and ecotourism. This book has received fantastic ratings.
A Guide to the Birds of Panama
A very thorough guide to the birds of Panama and adjoining countries. Includes color-plates and a check list.
A Path Between the Seas: the Creation of the Panama Canal, 1870-1914.
A very well researched book that covers all of the history relating to the construction of the Panama Canal.