| | | | |
| --- | --- | --- | --- |
| | | - | |
Romansch
If I get some time, I'll try to get to Switzerland again, to the part where they speak Romansch.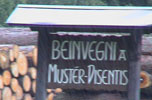 The last time I was there, I took some pictures of signs in Romansch. The few words here will show you how close
the language is to other Latin-based languages.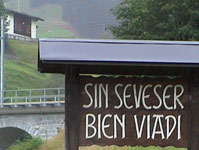 According to ethnologue.com, Romansch has "78% lexical similarity with Italian and French, 76% with Catalan, 74% with Spanish, Sardinian, and Portuguese, 72% with Romanian." and all of the speakers are bilingual, mostly in German.
I need a native speaker of Romansch to help me with the booklet and to record. Sex and age are not important (well, for this project anyway), but you must be able to speak loudly and clearly without impediments. If you are interested, please e-mail me at info@single-serving.com, thanks!