Portland
Oregon
Belmont seemed like a cool place around the 32nd to 35th street blocks. Several of the places to eat I've recommended are on Belmont.
Places to Eat
Bonfire Lounge
2821 SE Stark
Portland, Oregon 97209
503-232-3704

This was the first place i went in Portland. It was a nice, dark bar, with a pool table in one room, and seating in two others. They had a limited menu, as, i've been told, all bars must have to serve hard alcohol. The atmosphere was great, and the food not great, but good enough for me to come back.
Costello's Travel Cafe
2222 NE Broadway
Portland, Oregon zip
503-287-0270 costellostravelcaffe.com

Costello's has video screens showing videos they've made from their many travels. The decor is maps in the bathrooms, and exotic hotel stickers on the walls. There are converstaional language groups that meet for Spanish, Italian, German, and French. Check their website for details. They also have great sandwiches, incredible cheesecake, and other deserts, all made on site. Free wireless and Friday/Saturday foreign films top it off to make a place that sounds like it can't be beat.

Why can it be beat? I found the atmosphere to be a little too clean and sterile. I'd love to see it in a place with creaky wooden floors, and some peeling paint, or something that gives it some of the character it's lacking. The stickers from various hotels all look like they were bought out of one catalog. And, finally, rather than a gripe, a suggestion, give some travel information: Have location outlines and info posted for the videos, write travel tips or interesting tidbits on the daily specials menu, something, anything. Give it some meaning, please!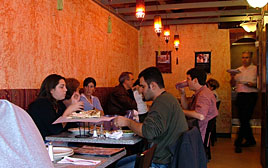 Nicholas Restaurant
318 SE Grand Ave.
Portland, Oregon zip
503.235.5123

Lebanese and Middle Eastern Cuisine. Deb recommended Nicholas when I was in the mood for middle eastern food. The food was great, and it was obviously popular. The few downsides are the acoustics: it was quite loud inside, and the bad pine 2x4 open hung-ceiling treatment. I'll definitely go again next time I'm in Portland.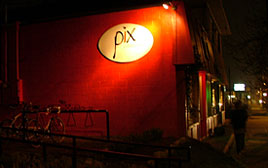 Pix Pastries
3402 SE Division St.
Portland, Oregon 97202
503.232.4407

Jesse's been raving about Pix Pastries, but we went on Monday, and it's closed Mondays. They have excellent pastries and wines. Some other friends said that the portions are small and expensive, but still worth it.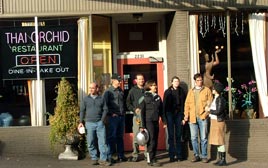 Thai Orchid
2231 W. Burnside St.
Portland, Oregon 97210
503.226.4542

Thai Orchid is a well known Thai place in NW. The food was great, as Thai usually is, and the atmosphere was pretty typical for slightly-better-than-mainstream asian restaurants. Thai restaurants seemed to be more popular in Portland than anywhere else I've been.

La Calaca Comelona
2304 SE Belmont St.
Portland, Oregon 97214
503.239.9675

And I've always thought that there were only two kinds of Mexican restaurants. I won't vouch for authentic or not, which they claim to be, and who cares about authentic when it tastes great. No burritos, and several items that were new to me. Try the ?whatwasitcalled?, a beer with spices on ice, with salt on the rim.

La Villa
719 SE Morrison
Portland, Oregon zip
phone

We passed La Villa at some point. I can't remember what the sign said, but I wanted to check it out. It was either meditteranean or middle eastern and it was definitely vegetarian. None of my friends had been, and they thought that it was new. I did read that they had a large, and decent lunch buffet.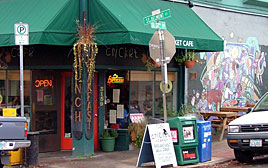 Cricket Cafe
Belmont and 32nd
Portland, Oregon zip
503.872.9696

Becki said that this was a great place for breakfast, and served lunch as well. I poked inside, and liked the atmosphere. All the tables were full: usually a good sign, and the smell made me want to stay, but we were on our way elsewhere, and i simply didn't have the time to return. Next time.

Paradox Cafe
3439 SE Belmont St.
503.232.7508

Jason recommended it, but I didn't get a chance to go this trip. The Willamette Week says:
"A reliable standby for those who eat politically, artistically, or health-concsiously. Vegan food that will make you wonder why you ever ate meat or dairy."
Voodoo Doughnuts were also recommended by Jesse and Tom, saying that they had weird hours and weird donuts. Their website says they are open 10pm-10am (8pm thur/fri/sat), closed Saturday during the day and closed Sundays.

Voodoo Donuts
22 SW Third
503.241.4704 Navarre
10 NE 28th Ave.
503.232.3555

Ray and Jason went and recommended it highly. I didn't get a chance to go this trip. The Willamette Week gave it a great review.

I was told that Edgefield was a brewpub, but in looking into it, it's an entire estate, with a theater, a brewery, a winery, a golf course, and more. Not really my cup of tea, but the reviews are so positive, I'll have to check it out! It's in Troutdale, east of Portland on I-84.
Places to Drink
Remember, this site is sometimes the best places to go, and other times, it's just where i went. The bars I went to fall more into the latter category. There are tons of bars in Partland, and any city, for that matter. After Jesse took us to the Magic Gardens, a dive strip bar that's been run by the same older lady for as long as anyone can remember, Jason and Deb took us to a perfectly dingy little bar in the back corner of an even scarier Chinese restaurant (where, they said, we should never eat) called Hung Far Low! It had absolutely no redeeming qualities, and that made it great. As a visitor to Portland, it gave me the perfect feel of being an insider.
Maps
There are free maps available from Portland office of Transportation GettingAroundPortland.org, available at most bike shops. Powell's has a free downtown walking map, and the independent record stores got together to make a guide to Portland Record & CD Stores
2004 Portland Guide to Independent Record & CD Stores
Walking Map of Downtown Portland - Powell's Books
Portland by Bicycle - Bike Map & Resources
Northeast Portland Family-Friendly Bikeway Map
Southeast Portland Family-Friendly Bikeway Map