| | | | |
| --- | --- | --- | --- |
| | | . | |
Here is a great article about the
ever controversial Bosnian flag.
BBC News Bosnia Country Profile
Sarajevo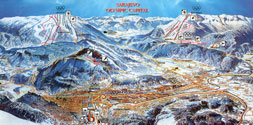 Here is a beautiful map of the 1984 Sarajevo Winter Olympics.
full screen view
extra huge for printing
For highly recommended baklava, check out Sarajbosna on Gajev trg. It's like getting an internal stomach massage. Delicious. Get even more recommendations from this list of sweets shops in Sarajevo.
I love the "In Your Pocket" guides for Central Europe. Sadly, they have discontinued the Sarajevo guide. I have saved the first page of their guide (the links mostly don't work). Also download the also discontinued, and therefore no longer necessarily up-to-date free Sarajevo Instant City Guide.
Tuzla
A pretty detailed unofficial Tuzla Home Page by Predrag.