leCool is not only a great website for what's happening in Barcelona and Madrid, as well as other cities, but they also wrote the most beautiful travel guide I've ever seen: Le Cool Changed My Life: A Weird and Wonderful Guide to Barcelona! Now in a second edition, this book is a must for any hip Barcelona traveller!
Read the blog of Ben Curtis: Notes from Spain, and make sure to check out his podcasts too! Ben is a British expat who has been living in Spain for years now.
Spain
photo gallery of a massive tomato fight held every year in Buñol, Spain. It lasts for exactly one hour on the last day of August every year, from 11-noon. Giant trucks of tomatoes come through the streets, they give you goggles, and then everyone starts pelting anyone they can with tomatoes.
Go to Mountain Biking Maps & Guide Books for Germany with information on mountain biking in the foothills of the Alps in southern Germany.
Here's a letter from my friend Erik, after a trip to Spain for New Year's 2005/2006. It included so many great details, I just had to include it here.
---
January, 23rd, 2006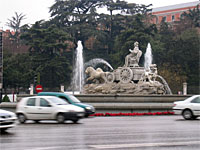 Big fountains abound
Its been one of those things where as soon as we decided to go to Spain, all things Spain started cropping up. The NYTimes ran 2 articles right before we left, one on a club in NYC that gets together to watch bullfights live on satelite tv and another on a big planned exhibit at the MOMA this spring focusing on new architecture in Spain. The intensity of school has brainwashed me into looking at everything in terms of architecture, and I found that I was doing a lot of that during the trip, in terms of history, politics and Mindy and I's constant way of evaluating places; could we live here?

Plaza San Andres
I have always passed up vacations to Europe in favor of the Third World, trying to get more extreme cultural experiences, and because of that I don't think I have vacationed in Europe since high school. We started in Madrid. All I could think about was what the place must of been like during the time of Conquistadors. We spend much of a day in the Prado museum looking at old paintings, something I used to get bored quick with, but paid more attention mostly just trying to beef up on my history. They are famous for their Goya collection, and they guy produced tons of stuff, all huge, but the original Hieronymus Boschs were the most interesting I thought. What kind of drugs was that guy on? I didn't really want to spend too much time in museums since that's what NYC has tons of, but it was good to see that not all museums are equal and how important it is to see originals, they force you to think about things prints in books can not.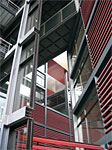 New Reina Sofia addition
We also spent some time in the Reina Sofia, their MOMA. They had an entire section dedicated to Picasso's Guernica painting depicting the Spanish Civil War, which he wouldn't allow to be hung in Spain as long as Franco was in power. Their was a huge crowd around it, and I couldn't imagine another painting that has such an effect a country's national heritage. Franco was in power until he died in 1975 and the country still seems to be getting over it, and actually thriving as it does. The highlight for me was the architecture, it was an old hospital that has now been added onto with exterior glass elevators and shiny red auditorium that looked like a collaboration between Ferrari and Apple. It was designed by the famous French architect, Jean Nouvel.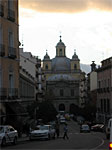 San Francisco El Grande
My favorite thing though, and probably true for the entire trip, was just walking the streets, the narrower, the better. I loved not being in a grid. The streets wandered in such illogical ways, the map sort of became useless. Coming ot intersections and have seven choices, you just dont get that here. We would just have to veer in certain directions and then we would come across a new plaza with some 1000 year old church that wasn't significant enough to warrant any special mention on the map.

Barcelona at night
From Madrid we took a train to Bar(th)elona, as they call it. We got our plane tickets over there using frequent flyer miles and we able to do it because it was low season. Because we were both in school, we didnt' really plan our trip or make any reservations, we figured since it was the winter would just make it up as we went. Well it turned out that there were tons of tourists, mostly Spanish. We figured it would be cool to be in Barcelona for New Years, well so did tons of Europeans. So after a frantic afternoon of going from one fully booked hotel/hostel to another, we finally found a place at twice the cost we were hoping for. In general, I didn't think Spain was that cheap. Barcelona was like NYC prices.

Parc Guell
In Barcelona we started with checking out the Gaudi architecture, his whimsical houses, apartment building and famous cathedral, La Sagrada Familia. But the highlight for me was his Parc Guell, which sits on a hill overlooking the city. He planned it to be an artist colony and I guess it sort of was.

La Boqueria, perhaps the best open food market anywhere The vast scope of his style, inventive classical columns right next to rough stone columns, cartoony iron work, and intensive tile work riffing on the Islamic style were all on display. I also saw some great new architecture, or at least intersting new architecture, from Herzog and De Mueron's Forum building to an exhibit of models of recent work done by the Dutch firm MVRDV in a funky restaurant. The main market in Barcelona, the La Boqueria, was maybe the best market I have ever been too. The fruit, the fish, the baked goods, everything looked and smelled amazing. As far as food goes and before we found the market, the jamon really caught up with us in Barcelona. At one point, I had ham and cheese for four straight meals. It was like there was nothing else to order. Ham was everywhere.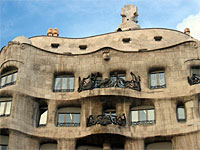 La Pedrera is said to mimic the ocean waves, complete with seaweed balconies We did start to hit the Doner Kabab places, which were everywhere and cheap. We spent New Years wandering the streets, the mass public drunkenness was really fun, after new years everyone throws their empty champaign bottle in the air watch them smash in a big pile, and all in all big mobs of good naturedness, but we could see the ugliness coming when we headed back to the hotel around 2am. They have a tradition of eating 12 grapes to bring in the new year, Mindy really liked that.

La Mezquita
From Barcelona we took an overnight train to Cordoba which was pretty fun, something I used to do when I was kid going to boarding school in India. In the south there was a more of an Islamic feel, actually one of the guys in my train compartment was doing his prayers on his bunk. I wondered how he felt about us Americanos. The highlight of Cordoba was the Mezquita, an elaborate Byzantine mosque first built by the Visigoths (I love that word) in the late 700s. When the Christians took over in the 1300s, they build a massive cathedral INSIDE the mosque. Its one of the craziest things I have seen.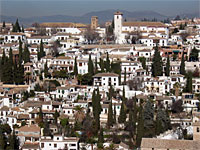 View of Granada

The Alhambra, Granada
Then we took a bus to Grenada, home of the Alhambra, a massive fort/palace that was the seat of the Moors in Europe until the 1400s. I busted out my old Nikon and spent the day taking black and white photos of the place, and really had fun walking through the maze of rooms, temples, and courtyards. It was amazing. Grenada is also a big college town and like Barcelona, there was lots of cool graffiti and stenciling. Made me thing of SF in its graf heyday.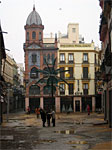 Seville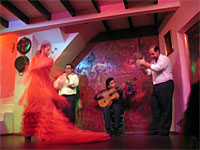 Seville is the home of flamenco
From Grenada we took a bus to Seville, which in a word is the stereotype of Spain. It is home to flamenco, bullfighting and tapas. And the streets were the narrowest and most fucked up, I loved it. To further complicate things, store hours are still a mystery to me there. I know they have siesta and all that, but still, everything seemed to operate on its own schedule. As a result, every time we would walk around, the place would look different. Sometimes it would be a shopping street, sometimes it would be a restaurant street, and then other times it would be a street to get plumbing supplies or something else. As a result we were constantly lost. We visited the bullfighting ring, though they only fight in the spring and summer but the museum was cool, with famous bulls heads mounted to walls and gory photos from the 60s. And basically just drank lots of cafe con leches and ate ham and cheese.
Well, I think thats the bulk of our Aventura Espana.
---
Things to see in Spain
Mountain Bike Trails
www.sierranevadaactiva.com has a nice list of trails in Spain.
Buy Barcelona & Catalonia (Eyewitness Travel Guides)
Eyewitness guides are always beautiful, well-illustrated, and full of history and current information. This is a great guide, but not as good as some of their others.
Buy Barcelona the Great Enchantress (National Geographic Directions)
A wonderfully written book on the history of Barcelona, and what makes it what it is today.
Buy Time Out Barcelona.
Great guide for entertainment and activities, especially for longer stays.
Buy Eyewitness Top 10 Travel Guides: Barcelona.
Top ten lists in every category. Get this book in addition to others, but not as a sole guide.