I'm trying to rewrite, and reorganize this page, so please bear with me on all of the broken parts.
Watercourse Foods
206 East 13th Ave
Denver CO, 80203
303.832.7313
Before I moved to Denver, Watercourse Foods was the first place i'd go when i came to town. Hardly any of my friends are meatheads, so we all arrange to meet there. This is the place for brunches or great vegetarian breakfasts and lunches. Right in the middle of a funky little part of Denver, with thrift shops, a record store and punk rock shops all nearby. This place is on my personal list of favorites. One of those places where the food is good, it's not too expensive, there's a cool atmosphere, and niether extreme of overly impersonal nor too formal. Every town needs a place like this, but not all have them.
Mercury Café
2199 California St
Denver CO, 80205
303.294.9281
Sam told me about the Mercury Cafe and i went there with markoconnor amongst others. It has an old, funky interior, and feels very comfortable. The beers were $4 each, and they have live music some evenings. The first night we went it was a bad, but entertaining, new age flutist. They serve from 5:30 daily and have a brunch on Saturdays and Sundays. The food is all natural, with no additives, including the meats, which are from free-range, sans hormones animals. They have many meat options and a good number of vegetarian options. The meat all comes from controlled sources that i assume are hormone free (i didn't see whether they were free-range). I forgot to take a picture inside. The outside is just bricks and a door, and gives little hint of what's inside.
I will definitely go back. Markoconnor just loved it and couldn't stop talking about it, so i know that he'll be back.
Jerusalem
1890 E. Evans Ave.
Denver, CO 80210
303.777.8828
Jerusalem fills so many culinary gaps for me in Denver. It's great! They are open crazy hours - almost all the time! The food is great, authentic middle-eastern, but made quickly and is cheap! It has a lot of character and is easy to find. My only complaint is that it's so far south. I wish that it were closer to downtown:(
Saverino
2191 Arapahoe St.
Denver, CO 80205
303.308.0764
www.saverino.us
Tiramisu is everything that I hoped that it would be. The food was great, the atmosphere was formal, but relaxed, if that makes any sense to anyone. It was some of the more authentic Italian that I've had in Denver, and a great place for a date or a special occasion. They have opera singers on weekends, check their website for schedules and more information. Spelled Saverino, not Savorino.
Bang!
street
Denver
phone
Text, text text text text, text, text text text. Text, text text text text text text. Text, text text text text, text, text text text. Text, text text text text text text.
Thai Basil
540 E. Alameda Ave
at Pearl Street
303.715.1188
Thai Basil Asian Fusion
Travis' all time Denver favorite i think, and I can understand why. The menu has both the standards as well as funky, non-traditional fare. If it were closer to our house, we'd be there a lot more often. Right next door to Fontana Sushi.
Name
street
Denver
phone
Text, text text text text, text, text text text. Text, text text text text text text. Text, text text text text, text, text text text. Text, text text text text text text.
Name
street
Denver
phone
Text, text text text text, text, text text text. Text, text text text text text text. Text, text text text text, text, text text text. Text, text text text text text text.
Carmine's on Penn
92 S. Pennsylvania St.
Denver, CO 80210
303.777.6433
Mathias and Sam took me to Carmine's on Penn and the great Italian food took me right back to Italy. The service, however, was nothing like Italy, and odd for my tastes. Before I get into that, don't forget that it's tough getting a table here. Get in early or be prepared to wait. Once we were seated, I found out that the food is served platter-style or something. That means that everyone orders one dish together, and you get a huge tray of it that you can serve onto your own plates. The wait staff were all young, relaxed, and informal, yet took our orders and explained the dishes very formally (and without much energy.) I still haven't gone back to see how typical that was, but probably will shortly. The food will definitely bring me back, and the curiosity, and unsureness as to whether I liked the service will probably draw me in as well.
Tommy's Thai Restaurant
3410 E. Colfax
Denver, CO 80206
303.377.4244
Tommy's Thai Restaurant
Just completely remodeled. The food was great, but even though it's closer to me, I prefer Thai Basil for the better atmosphere. I still like it, and I'll definitely be back, but Tommy's was a little too 'hip' and new for my taste. I just ate there again with Andrew, and he prefers Tommy's to Thai Basil.
Thai Basil
540 E. Alameda Ave
at Pearl Street
303.715.1188
Thai Basil Asian Fusion
Travis' all time Denver favorite i think, and I can understand why. The menu has both the standards as well as funky, non-traditional fare. If it were closer to our house, we'd be there a lot more often. Right next door to:
Fontana Sushi
534 e. Alameda Ave.
(at Pearl St.)
Denver, CO 80209
303.778.8818
Fontana Sushi
Stacey and Eli just ate there and said that it was their favorite sushi in Denver. I'm not a sushi expert, but I definitely liked it as well. Right next door to Thai Basil, another favorite.

Handlebar & Grill
305 S. Downing
at Downing and Alameda
303.778.6761
I saw the Handlebar and Grill and realized that I had to go. The food is good, standard American fare, but with a bicycling theme. The dishes and sandwiches are all named after biking companies and there are classic and other interesting frames and bicycles everywhere you look, along with bicycling posters and much more.
Bump & Grind
439 E 17th Ave
Denver CO, 80202
303.861.4841
I was just out running around and saw the Bump & Grind and went in for something sweet. I had a piece of blueberry cheesecake, made in house. It was really tasty.
Later, I heard about the Drag Brunch, Saturdays and Sundays til two. When Erik Waterman was in town we hit it. I took him there for the entertainment, but the food ended up being even better. I highly recommend it, especially for out-of-town guests. The only bad part is the typically lengthy wait for a table.
Mt. Everest
1533 Champa St
Denver, CO 80202
303.620.9306
Travis' friend Krista and I ate at Mt. Everest Nepalese restaurant one night just looking for somewhere to eat. The food was great and the staff was reasonably friendly. They are right off the mall, and don't have that annoying sterile feel of most of the other places on the mall. Mt. Everest specializes in the cuisine of Nepal, Tibet and India.
Noodles & Company
website
many locations
James took me to Noodles & Company and I really loved it. There are three in Denver, and it feels like a chain. The atmosphere is nothing special: get in, get your food, pay, eat, and go. That's all they want you to do, and that's all you'll do. My first time, I got the Indonesian Peanut Sauté. It was incredible for a chain, and even quite good if it had been a restaurant. I've been back many times, and will definitely keep going back, although not too frequently. I just tried Big Bowl, which is similar, but Noodles beat it for me in price and taste, maybe not atmosphere, of which, neither have much.
The food is a vareitey of Asian and Italian dishes. There are plenty of vegetarian options and no MSG is used in any dishes. The prices are about what you'd expect for better fast food (noodle dishes from $3.75-5.75).

Nicolos Chicago Style Pizzeria
1205 East 13th Ave.
Denver, CO 80218
Text, text text text text, text, text text text. Text, text text text text text text. Text, text text text text, text, text text text. Text, text text text text text text.
Benny Blanco's Taste of the Bronx
13th Ave.
Text, text text text text, text, text text text. Text, text text text text text text. Text, text text text text, text, text text text. Text, text text text text text text.
Dong Khanh / Saignon Bowl Vietnamese Restaurant
Far East Center
333 S. Federal Blvd. 3134
Denver, CO 80219?
303.935.2427
Mark O'Connor loves this place. I've been there with him twice. The food is good, but what i've had there, and no where else, is an avocado milk shake! It sounds gross, but is pretty damned good. To me, (not really a food expert) a great sign of an asian restaurant, is when you're one of the few non-asians in the place. That's definitely true here. It's in an ugly strip mall, but every other shop in the mall is vietnamese as well.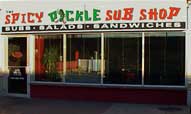 the Spicy Pickle
988 Lincoln St
Denver, CO 80203
303.860.0730
see website
for other locations
Mathias took me to the Spicy Pickle. They have subs and pannini sandwiches. The prices could have been a bit cheaper, but weren't outrageous. The sandwiches tasted very good. I could have dealt with a bit less mayo or sauce and maybe more dry veggies on mine, both the sandwiches that I had were heavy on the sauce (different sauces though). Everything is available to go.
I go back occasionally.
Club 404
404 S. Broadway
Denver, CO 80203
303.778.9605
ATTENTION MEATHEADS: Mathias and Sam took me to Club 404. The atmosphere was worth a million and the food was surprisingly good. Unless you're a regular, you'll think that you just walked into a smoky redneck bar, and you just did, but it's also a good restaurant. Vegetarians beware (you can get a salad or something, but that might even have meat in it). I got a chicken breast sandwich from the menu, despite everyone telling me that the specials board is the only way to go. The specials board looked good, but was too meaty for my taste. My sandwich was definitely good. Portions are huge. I went again and got the señor chic-chic. It was just a big fat pile of shredded chicken in a tortilla. I think that that was my last time there. If you're a meathead, go there without hesitation and get something from the specials board, otherwise, go once for the West Virginia bar atmosphere, and then make your own decision.
I did go back, but that was my last time.

I read about El Chapultepec somewhere, but i can't remember where. It is an OK quality mexican joint with live jazz every night. The quality is just a step above taco bell, but the tables aren't made of plastic and neither are the people. The service is actually just as fast, so there's no reason at all to go to a taco bell in downtown Denver. It is run by older white folk - definitely strange in a city with so many Mexicans. It used to have a Mariachi band, til the INS got on their ass. The owner was then left without entertainment and decided to try out his favorite. The article that i read said that everyone told him that it wouldn't work, but obviously it has. It is quite small, 50 seats in two rooms. I was there at lunch, so i didn't get to hear any jazz. It looks like only about eight tables can actually see the band. I would stay away on game nights, it's probably just packed with drunks.
I would like to go back at night.

Tarantula Billiards
1456 Champa St.
Denver, CO 80202
720.932.6666
James and Julie called Mathias and me up and told us to meet them at Tarantula Billiard's at 15th and Champa. It was brand new at the time. They hadn't even recieved their liquor license yet, so the crowds were thin. Now, despite my lack of interest in billiards, I'm there pretty regularly. It's an interesting mixed crowd. The food is the best food I've ever had in a bar, and there are sofas and fresh fruit smoothies!
It's also a great place for groups. Weekend evenings can get crowded.
I was running around downtown and hungry. I saw Big Bowl Asian Kitchen and figured that I should try something new.
It's got that young hip decor, trying to be fun, but definitely says "chain" every direction you look. The food was very simple. I wouldn't recommend it. The similar Noodles chain doesn't have the same pizazz, but the food is better and cheaper, so that's where I'm headed next time.
Il Vicino Combine a classy Italian pizza place with the warmth and emotion of McDonald's and what do you get? A confused, boring chain that can't decide if it's fast food or not. I actually liked my pizza a lot, despite the awkward atmosphere, Brandon didn't like his.

Walnut Cafe
338 E. Colfax Ave
303.832.5108
Walnut Cafe For more typical breakfast fare, this is a good bet. Whenever I'm craving pancakes, and my roommates eggs, we usually end up here. It's kind of a higher quality IHOP, that's not a chain. Although it's not a chain, it's decorated like a cheap hotel, alright, maybe that's a little harsh, but that's the general direction.

HotCakes
1400 E. 18th Ave.
303.830.1909
Hotcakes If I compared Walnut Cafe to IHOP, I should have saved that description for Hotcakes. Being right across from a hospital gives it that crowd, which throws it even more in that direction. If your in the mood for typical breakfast food, hit Walnut instead, if you're already at the hospital, it's not a bad choice. The food is good, it's just the atmosphere that's missing. If you look at other reviews, some people seem to really like this place, so maybe they've seen something that I haven't?

BD's Mongolian and P.F. Changs. Grouping these two together was a natural for me: both had initials for their names, both "explained" their dining experience, both were mid-priced, both had good food, but the food was no better than low-priced equivalents. I'd rather get served Mongolian or Chinese by someone of that nationality that barely speaks English, and get served on a plastic tray, than pay a lot for the same food, and be served by a bunch of young white kids working for tips. Who is BD anyway? A Mongolian with business sense? Or, more likely, some rich, white kid from Boulder. I'm just guessing here, I have no idea. I've been to each once, and I don't think that I'll even give them a second chance.

Swift's
8 South Broadway
Denver, CO 80209
303.777.9923
Swift's
What can I say? I hate it, my roommates love it. My roommates rave about the big breakfast burritos with the great green chile sauce, I bitch about the smoke (who wants to eat breakfast in a smoke cloud?) and the lack of choices that aren't meat based.

Las Margaritas
1037 E 17th Ave
Denver, CO 80209
303.830.2199
Las Margaritas
Brandon just took me to Las Margaritas for Lunch along with Renata. He immediately said that he felt like he was at Ponderosa. I agree, but not fully. The atmosphere couldn't really make up it's mind. They had cloth napkins, decent food (but nothing special), and good service, but bad music (hopefully an exception) and decorations that definitely felt chi-chi's.

Sweet Rockin Coffee
400 E. 20th
at Logan st.
303.863.7473
Sweet Rockin' Coffee
European style pastries and more. A little overpriced for what it is, but tasty. The 60's music paraphanelia collection doesn't quite fit in, but maybe it's just me.

Maggiano's Little Italy
500 16th Street
Denver, CO 80202
303.260.7707
Maggiano's Little Italy
I was treated to a lunch here by Randy White, but the one in Centennial, not the one on the 16th street mall. I wasn't expecting much from the reviews that I had read, most of them finding the food quality and price disparate: low and high respectively. I actually found the food to be good. The atmosphere was a bit overboard for what it was (picture a mall restaurant trying to look high class), but I have a hard time finding much else negative to say. I'm always looking for something negative to say.

Other places that I read about that I will want to check out soon. I'm ready to be dissapointed, but you never know.
Restaurants:
the Blue Bonnet
El Noa Noa

Cafe Europa review
I'm planning on going soon. I've heard very good, but also mediocre reviews, so it's probably worth checking out.
76 S Pennsylvania
Alexander's
4042 E. Virginia Ave
across from Target, right off Colorado
Denver, CO 80246
303.320.0777
I just ate at Alexanders with Amy, Bruno, Gin, Patrick, Alice, and Kyle. I liked the building, and everyone enjoyed their food. It's not made by Mexicans, but I definitely liked it. One whole side of the menu is vegetarian, the other with meat. The service was friendly, but ulitmately horrible. There was only one person serving the whole place on a fairly full Sunday lunch. I can only imagine that that was an exception, and won't consider it bad, unless it's the same on my second visit. There are one or two pool tables.
Cuba Cuba
1173 Delaware St.
Denver, CO 80204
303.605.2822
Cuba Cuba has received some great reviews.
I'll definitely be checking it out soon.

Chavin
2257 W. 32nd Ave.
1 block east of Zuni
Chavin, Peruvian restaurant. I don't know anyone who's eaten here, but it looks promising. It's in an old house in a nice neighborhood, close to downtown.
An's Lemongrass Grill
1617-B California St.
Denver, CO 80202
720.889.0383
An's Lemongrass Grill, Downtown, right off the mall. I really wanted to like this place, and I bet that it'll be successful, but we simply found the food simple. We had three different dishes, and although none were bad, they were all bland and felt somewhat soulless.

Ho Mei
N Colorado Blvd. (just north of MLK)
Wok Uptown
Park Avenue West and Marion St.
Ho Mei and Wok Uptown are our houses favorite Chinese, but boy are they different. Ho Mei is cheap, big portions, and fast. The biggest bang for the dollar I've ever tasted. Now, I won't say anything about the quality, or how much we laugh at the half-English we hear there. If you're going to Ho Mei, it's for the cheap eats, not the quality. The combo meal is the only way to go. You couldn't eat cheaper at Safeway.
Update: I have gotten pretty sick of Ho Mei. It's incredibly, even scarily cheap, but the quality just was too low. I can't eat there anymore.
Wok Uptown is where we go (or get delivered) for Chinese when we feel like our innards can't handle the Ho Mei quality and we feel like spending a little more to make sure of it. It's not expensive, only relative to the Ho Mei combo meal.
St. Mark's
2019 17th Ave.
303) 322-8384
St. Mark's Coffeehouse
Student mecca. Sandwiches, coffee, and desserts. Wireless internet and a cool owner, who even has a tiny table for his kids when they are in! I highly recommended it for the above uses!
Damascus
2276 South Colorado Blvd.
303.757.3515

Damascus Restaurant, Review coming soon.

Wazee Supper Club
1600 15th St.
303.623.9518

Wazee Supper ClubWazee Supper Club Lisa's favorite pizza in Denver. Great pizza's in a nice LoDo environment. It has more of a sports bar feel than i'd like it to have. Although I like it there, I feel like there's something missing, some untapped potential.

Wynkoop Brewing Co.
1634 18th St.
303.297.2700

Wynkoop Brewing Co., Review coming soon.

Tosh's Hacienda
3090 Downing St.
303.295.1861

Tosh's Hacienda, Review coming soon.

Two Fisted Mario's Pizza
1626 Market St.
Denver, CO 80202
303.623.3523

Two Fisted Mario's Pizza
Sometimes grabbing a huge mario's slice and a Blue Moon is what I need, and no one else can help me. Perfect for a quick fix when downtown alone, with friends, or late at night. Berry's favorite pizza in Denver. Tasty big slices and beer are just a couple blocks walk from most LoDo bars. The TV is usually playing Comedy Channel, and is the focus of everyone's eyes.

The Denver Diner One of the most ppopular places in Denver to fix that post-drinking greasy food need. The menu is pretty typical diner food, with some exceptions. It is the first place that I ever had a monty christo. liks ice cream 2039 E. 13th ave 303 321 2370 le bakery sensual tuk tuk piscos on 6th medditerrenean nicolo's pizza 13th and downing janet's favorite pizza swing thai cafe cero italian restaurant and bar. 1446 S. Broadway 80210 303.282.1446 www.greatwalldenver.com add bang! to reviews add oodles and budapest bistro on south pearl pho 99 2200 w. Alameda ave #7 denver 80223 303.936.9696 in alameda plaza shopping center That bar with heather An attractive bar, filled with a dressed up after-work crew. There's only snacks, but they're overpriced, undersized, and not anything special. I went to the Vesta Dipping Grill on Isabelle's last night in town

Clubs:
Purple Martini (Sam just told me that it sucked.)
(Update: I went there and it sucked. If you're a pretentious grown up frat boy or a little purse carrying bimbo, this is your place.)

www.dodenver.com is an alternative guide to Denver.
denver.com is a fairly thorough list of links to stuff in Denver.

atomic bblanco oodles bbistro mnd le central paris sputnik/strelka Buenos Aires Pizzeria Argentine style pizza, empanadas, sandwiches, and more. 1319 22nd Street 80205 303 296 6710 www.BApizza.com

Stuff to be added:
Paris on the Platte

gemini
Sputnik/Hi-Dive
I found this interesting little review of Denver area eateries by Jay Fox. It hasn't been updated in over a year, but was interesting enough to include here.
Here's something I pulled from the internet, but I can't remember where:
HereGabby,
I was writing to find out if you had any ideas on some good Vegan - catering restaurants. I have tried to compile a list of places to eat, but thought you might have some good insight. Before I was Vegan I enjoyed using your recommendations - and found some great spots! This is why I trust you have some good not thought of Vegan restaurants. I already go to watercourse, the mercury cafe, Mt. Everest, Radex, Mediterranean cafe, and Fourth Story. Sacre Bleu made a nice Vegan dish before too. Any more you can think of? I appreciate your help!!
Also, do you know of any Basque restaurants?
Gabby: Strings, 240 Union and India's are more great choices. Your list seems pretty good to me.