Hot Tomato
Hot Tomato
201 Aspen Avenue
Frutia, CO 80203
970.858.1117

(Formerly Diorio's of Fruita.)
Jen and Anne, two mountain bikers that used to work at Over the Edge, have now bought the business, renovated it, and changed it into Hot Tomato. This really shows how much the town has been changed by mountain biking!

I haven't been there yet, so i'll leave the description to Jen, the owner:

All of our ingredients are Fresh, fresh, fresh!!!!! We have a few local suppliers so our produce is much better than it was when it was Diorios. We are really trying to make the Diorios mentality to go far, far away! We also have a bunch of new specialty pizzas, our hottest seller being the Grannys Pesto. All of our Dough, whether it be for pizza or sandwiches is made fresh every morning and our pizza is hand tossed.

We now have cold brews available, New Belgium products on tap and local Palisade and SKA brews in the cooler! We are also making a big improvement on our salads and are in the process of adding breakfast to our menu. We have a sweet Espresso machine, thanks to Espresso Bob, local mountain biker extraordinaire!
Aspen Street Coffee
Aspen Street Coffee
136 E. Aspen Avenue
Fruita, CO 80203
tel

The cafe is just right across the street from Over the Edge bike shop in the other direction. They have pastries and bagels in addition to coffees and teas. I had a bagel and tea and both were pretty good. The bagel even tasted fresh, but I failed to ask whether they make them themselves. I'm not a coffee drinker, so I can't evaluate that well, but next time I'll bring someone with me that drinks coffee to give me an opinion. They close early except during Fat Tire Festival.
The Boneyard Brewery (formerly Fruita Brewing Company)
The Boneyard Brewery
xxx E. Aspen Avenue
Fruita, CO 80203

After a brief disappointing run as the Fruita Brewing Company, the place has been reborn as the Boneyard Brewery, but sadly not much has changed. The food is OK if you get the right thing, the beer is great, but service is no better than it was in its prior incarnation.
Fiesta Guadalajara
Fiesta Guadalajara
103 Highway 6 & 50
Fruita, CO 80203
970.858.1228

Formerly the End Zone Eatery & Pub. This is probably my favorite place to eat in Frutia. It's part of a small chain of, i think, four restaurants in the Grand Valley. I'm not sure how much they differ. I've had many good meals in the Fruita location, and one pretty bad, watery, shredden chicken dish that had less flavor than Taco Bell. I ate at the Grand Junction location years ago, and didn't like it at all. I haven't been back to give the Junction location a second chance.

The chips and salsa are fantastic - i've even bought more to take home! The food is pretty good, but varies, depending on what you get. I'd avoid shredded chicken dishes, but maybe that's a good rule for any Mexican restaurant.

The picture is old, but I don't have a new pic since the change.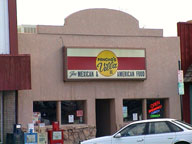 Pancho Villa's II
Pancho Villa's II
229 E. Aspen Avenue
Fruita, CO 80203
970.858.9380

Is for sale! Fruita needs something new and exciting here! Will you bring it?
Munchies Pizza & Deli
Munchies
319 W. Aspen Avenue
Fruita, CO 80203
970.888.0953

It doesn't look very appetizing from the outside, unless maybe you're in elementary school, but it's not what you think. It has a bit of a diner feel to it, and has burgers, pizza, shakes, malts, and the like. The quality of the food is pretty much what you'd expect from a non-chain, fast-food place. You wouldn't go on a date there, but if you're in the mood for fries and a malt, you found the place.
Mesquite Smokehouse
Mesquite Smokehouse
301 Highway 6 & 50
Fruita, CO 80203

This place has no atmosphere, but there is some instilled by family that runs it. I think that it's a husband and wife team with mom helping out. The smoked turkey is great, and my friends said that the other meats were great too. The problem is that that's it. The bread was horrible cheap bleached white burger buns, and there wasn't a vegetable in sight, or anything else to put on the sandwich or plate other than sauce or ketchup. If you're a meathead, definitely go for the meat and the experience. The experience can include really long conversations with the owner/meat smoker, who can be quite a character.

I'm not sure if this place is still open.
Tea House Chinese Restaurant
Tea House
439 Highway 6 & 50
Fruita, CO 80203
970.858.7788

I haven't eaten here yet. I heard a negative review, but it was from someone that I wouldn't necessarily trust. I had some cheese wontons from them at the Fat Tire Festival, and they were pretty good, but when could fried food outdoors at a mountain bike festival be bad?
The Endzone
the Endzone
Mulberry Street
Fruita, CO 80203
303.620.9306

Ahhh, the soap-opera-like life of a small town... Rumors is now the Endzone, which is what Fiesta Guadelajara used to be! I haven't been there, but from what i hear it's a step up. They've completely remodeled it and now have a full menu. Pool is free on Wednesdays!
City Market
City Market
Fruita, CO 80203

You can't really review a supermarket. It's there, and that's where you get food when you aren't eating out. I won't give you the address either. If you're in Fruita and you can't find it, you probably couldn't find it with directions either.

If you choose to cross the highway to plastic land, there is now an enstroms and a pablos pizza over there. There is also Judys for breakfast!